A new non-profit bookstore and event space will hit Grand Avenue this fall, giving voice to the Hispanic community in the downtown arts scene.
Palabras bookstore is joining a gallery space and a yoga store in La Melgosa, a quaint building painted in shades of pastel where live music, poetry readings and a host of other events marrying Spanish and English will be held. The events will begin at the Grand Avenue Arts Festival on Nov. 14.
When enough Spanish and English books have been donated, they will be available for purchase or rent, but until then, Palabras will function exclusively as an event space.
Owner and Palabras director Rosie Magaña, 30, said that she was motivated to start Palabras because she, as a first-generation Mexican-American, saw the difficulties that face those who are forced to deviate from their native language.
"I had to witness my mother going through the hardships of having to learn English while trying to raise all of us crazy kids," she said. "So I really wish that she could have had or known about the different opportunities she had to learn the language, obtain an education, things like that."
Magaña also discussed the setbacks of a school system that force young Latinos to speak English right away and cause them to fall behind in their other studies.
"In structured English-immersion, students cannot speak their native language, and what we know about language is that the first language is the foundation for the second language," she said.
Magaña said another motivating factor for her was the lack of Hispanic representation in the downtown arts community, despite the high demographic of Hispanics in that area.
"In this community, there's arts and culture that's growing, and it seems like the Hispanic community isn't really a part of that," she said. "Let's just be honest here, there's gentrification that happens and certain people get pushed out of communities that they've lived in for a really long time, and they're kind of forgotten."
Some of the events Magaña has in mind for Palabras include performances by musicians and artists from Mexico, Spanish movie showings with English subtitles, storytelling nights for people to discuss their Latin roots and blackout poetry workshops with Spanish newspapers, which involves selectively marking words out of text to create new meaning.
Palabras is working in collaboration with several other organizations as well, including Oh My Ears, a non-profit organization dedicated to bringing new music to the community, and Mujeres Del Sol, a cross-cultural female art collective.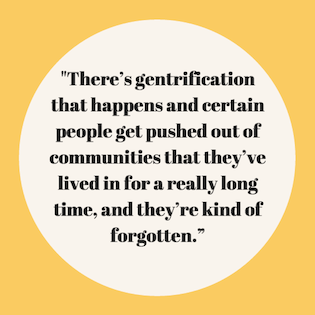 Yovani Flores, co-founder and director of Mujeres Del Sol, said she is excited to collaborate with Palabras and that she feels they are united by their shared motivation to bring Latino arts to the forefront.
"When you go into spaces on Grand and even Roosevelt Row, there are a lot of galleries and First Friday events going on but the Latino artists, and specifically indigenous and black artists, are not represented or reflected in the community that we're surrounded with," she said.
Flores said the ladies of Mujeres Del Sol will showcase their talents at Palabras during the Grand Avenue Arts Festival and are planning programs for the future.
Beatrice Moore, the landlord of La Melgosa and strong supporter of the downtown arts district, agreed that there is a lack of Hispanic representation in the community.
"There's a pretty high demographic (downtown) of Hispanic folks from all over and I think some business' coming in here will do well to acknowledge that demographic," she said.
Moore said that she felt Palabras stands out among other business' in the area because they are doing something culturally unique.
"We're very interested in retaining diversity in the neighborhood," she said. "I think these types of business' help to do that."
Those interested in performing or participating in events at Palabras can email palabrasevents@gmail.com.
Related Links:
'Festival de España' brings Spanish vibes to the city
Downtown art walk recognizes Hispanic Heritage month
---
Reach the reporter at icastil3@asu.edu or follow @isabella_m_cast on twitter
Like The State Press on Facebook and follow @statepress on Twitter
---
Continue supporting student journalism and
donate
to The State Press today.
---